WPP has come tops at Cannes today, named as the best performing holding company for the seventh year in succession.
This despite boss Sir Martin Sorrell's reservations about the festival (below), also highlighted by Publicis Groupe's decision to pull out of all awards festivals next year. Omnicom will be cheesed off as it had the highest number of entries among the holding companies.
Companies from 42 different countries contributed to WPP's Lions tally, with winning work including:
"The Refugee Nation" by Ogilvy New York for Amnesty International; J. Walter Thompson New York's "Unsafety Check" for Black Lives Matter; "Google Home Of The Whopper" and "Flame Grilled Since 1954" for Burger King by David Miami; Tigo Une's "Payphone Bank" from Grey Colombia; "A Love Song Written By A Murderer" by Circus Grey Peru Lima for Vida Mujer; Ogilvy Johannesburg's "The Sad Man Meal" for KFC; "Handle With Care" from Grey New York for Gillette; "Pitching French Films to Hollywood" by Ogilvy Singapore for Alliance Française de Singapour.
Johannes Leonardo's "Original Is Never Finished" for Adidas Originals; "Equal Pay Billionaires" by Ogilvy Brasil for Forbes Magazine; David Miami's "Pass The Heinz" for The Kraft Heinz Company; "Savlon Healthy Hands Chalk Sticks" from Ogilvy Mumbai for ITC Savlon; and "The One Moment" for Morton Salt by Ogilvy Chicago.
Sir Martin Sorrell, founder and CEO of WPP, said: "As ever, this award simply reflects the achievements of our wonderfully talented people all around the world, and of course the support of our clients.
"In the year of our seventh successive win, the industry appears to be experiencing a collective seven-year itch in terms of its relationship with Cannes.
"The importance of recognising the outstanding creativity of our people and the work they do for clients is not in doubt. The question is whether the festival does that in the most effective way, and we look forward to playing our part in finding the best solution."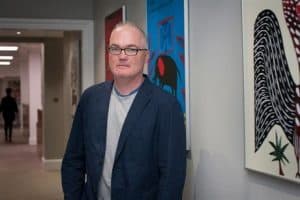 John O'Keeffe (left), worldwide creative director of WPP, said: "Cannes Lions 2017 draws to an end tinged a little with sadness. I'm personally sorry that so many good friends from Publicis won't be at the awards next year. The festival is the poorer for their absence.
"My congratulations of course go to my friends and colleagues throughout WPP, but also to all the winners, and indeed to every great client who bought all the brilliant work on show this week.
"Over the past ten days I've seen, writ large across the categories, the myriad ways now at our disposal to create fame for our clients. But equally I've seen proof of what I said last year: no matter what the platform, The Big Idea will always be The Big Winner."