Strategy partner Tamsin Djaba (below) joined RKCR/Y&R in April 2016. She is responsible for leading strategy on key clients including BBC and M&S and diversifying the agency's output.
Before joining Y&R she was strategy director at Droga5 London and director of New Business Models at the Nike Foundation, working on an initiative to reposition teenage girls within rural African society via new media platforms. She spent ten years as head of innovation at Fallon London where she was part of the team that created Cadbury's Cannes Grand Prix-winning 'Gorilla' campaign and worked across BBC, Skoda, Sony and Orange (now EE in the UK).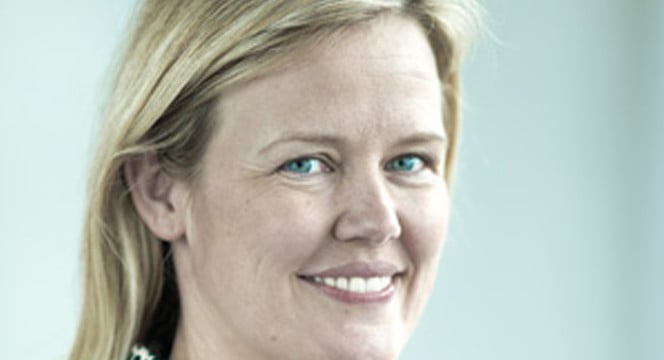 Desert Island Ads
As I put together this list I realised that my favourite ads of all time show how creativity can tackle some of the world's toughest issues. I genuinely think there is no other industry or collection of people who have the vision, ability and audacity to tackle things such as race, voting, gender, corporate greed, water shortage and even peace on earth. Thank you, Desert Island Ads, for reminding me why we do our jobs.
United Colors of Benetton – Hearts
Back in 1996 when I was trying to work out what to do with my life, this ad single-handedly made me decide to go into advertising.
Ministry of Sound – Use Your Vote
Richard Flintham and Andy McLeod (more than any other planners I know) always nailed the strategic sidestep that opened up a new creative space. In this instance, instead of trying to get people to vote by asking them to vote, they showed the effect of not voting. Much like Saatchi & Saatchi's current work, which is equally powerful.
Lego – Letter to parents (from 1970's)
The story goes that this was a leaflet inserted into a pack of Lego, but I love it because it shows that brands do have the permission and credibility to go right to the heart of important issues like gender stereotyping. It's hard to get right, but Lego did it here with aplomb.
Sony Bravia – Balls

I wanted to include this because it I think it was the first piece of work from Fallon to have gone truly viral, and showed us all a new way of having influence within the wider world. For me, as a planner, it signalled a shift away from looking for tensions, insights or problems to manipulate or solve, and showed the power of a relentlessly optimistic answer. It demonstrated a very different way of thinking within advertising and had some influence on my next ad I've chosen here
Skoda Fabia – Cake
https://vimeo.com/44379519
It's hard to imagine now, but car ads used to be really boring and mostly just feature large chunks of metal and little else. This totally changed the narrative in car advertising in a way that only Rich Flintham could do.
Land Rover – Hippos
I talked at the beginning about how I love ads that show how creativity can tackle serious issues – this ad still fits with this theme because I think advertising can also inspire people to be the people they want to be – the best version of themselves. Anyone who knows me knows how crazy I am about Land Rover. Whenever I see this ad it just makes me want to quit my job, buy a Landie off eBay and head into the desert. It makes me wonder whether what I'm doing is what I should be doing and that's a powerful thing for an ad to do.
Chipotle – Back to the Start


This is possibly my favourite ad of all time and the one I wish I'd done the most. It's just brilliant on so many levels. It talks about change on systemic level. It indulges my dreams of there being another way. It gets right to the root of the issue and, lastl,y it seems to be be the ad equivalent of Dr Seuss's The Lorax which chronicles the plight of the environment against corporate greed. So enduring, so meaningful, and so positive. It's the gold standard.
UNICEF – Tap Project
There is something wonderfully simple about this idea.
On World Water Day 2007, UNICEF and Droga5 launched the 'Tap Project' in New York and realising that the biggest and most served brand in the country wasn't in fact branded, they set about doing just that by giving people the option to "purchase" tap water (in an environment where they were already primed to make a transaction) in the name of UNICEF.
No need to feel bad for ordering tap water. In fact, feel good by donating a dollar to provide safe drinking water for those in need. It's a perfectly elegant and beautifully simple social marketing campaign model and was deservedly super-successful.
Burger King – McWhopper
Could a burger really pave the way for world peace? Well it kind of did…
The Y&R creative department in NZ were behind this one and managed to orchestrate two massive rivals checking their egos at the door in a very public forum. Burger King's worldwide viral marketing campaign kicked off with the passive aggressive stunt of running two full page 'open letter' ads in The New York Times and the Chicago Tribune. It went wild and I love it. Who doesn't? This is the best kind of marketing. Again, another super simple idea; one that gets you genuinely excited (no clicking the 'X' button on this one), raises brand awareness in an organic way and raises awareness for a fantastic cause.
Conclusion
If I had to take just one ad with me to the desert, it would be the one that makes me want to be in the desert in the first place. Land Rover, all the way.