It's always a surprise when the CEO of a big company leaves unexpectedly but Marks & Spencer Boss Marc Bolland (below) has been supping in the last chance saloon for a while now.
Turnaround is always just around the corner, supposedly, but when you announce that like for like sales of general merchandise (clothing and homeware, of which clothing is M&S's core business) have fallen by 5.8 per cent in the key Christmas period then you have to go. John Lewis sales were up 5.1 per cent.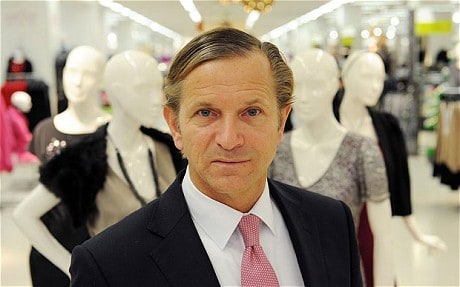 The really alarming thing for M&S stakeholders is that Bolland's replacement is insider Steve Rowe, an M&S lifer whose current job is stewardship of, yes you've guessed it, general merchandise. How does that work?
Rowe made his reputation running the food side of M&S, which is performing pretty well, but it usually does. And selling dinners for £15 is rather different to selling women's clothes.
Over Bolland's seven years in charge M&S has seen the departure of numerous female senior executives. Its problem is selling women's clothes so why lose the very people who should know how to do it?
You couldn't, as they say, make it up.