Dave Newbold and Jim Eyre are creative directors at Cheil UK. Newbold (left) began his career being mentored by the likes of Malcolm Gaskin and Al Tilby, working at agencies including Burkitt DDB, DDB London, Profero and iris. Jim Eyre trained as an architect, designed furniture at Barber Osgerby (creators of the Olympic Torch), and created iconic window displays and shop designs globally for Paul Smith before joining forces with Newbold at Profero.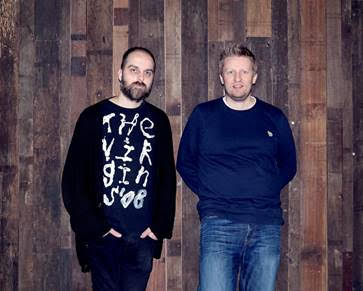 Desert Island Ads
The term 'real-time advertising' has come to stand for tactical or reactionary ads. To us, real-time ads are where a brand has been brave enough to play out an idea in real time, that takes it as a given that you'll participate, and sticks two fingers up to those who doubt them.
So in no particular order, here are our ten favourite real-time ads.
1 – John F. Kennedy Library and Museum – We Choose The Moon

Who doesn't want to go to the moon? This piece of work meant millions of us could embrace JFK's original mission statement "We don't do it because it's easy, we do it because it's hard." In recreating, to the second, this historic journey, it used technology to tell deeper, richer stories that gave a true insight into this feat of human endeavour.
2 – Antwerp Zoo – Baby Elephant campaign
https://www.youtube.com/watch?v=F1uwexYeKAg
The birth of a baby elephant helped galvanise a nation. This campaign behaved like any proud parent would, sharing ultrasounds, providing updates on mother and child, and eventually Belgium tuned in to watch the birth and celebrate.
3 – Paddy Power – Ryder Cup 'Skywriting'

You know you've got a provocative idea when the world's best golfer stops playing to take a picture of your ad. Hijacking a major sporting event was a bold idea and anyone could join in, not just Rory McIlroy. The chance of real time fame was huge and it probably cost far less than official sponsors spent.
4 – Zlatan '805 million names' – United Nations World Food Program

This is a true piece of real real-time work that reached more than 80 million people in the most original and provocative way. The stakes here were huge. If Zlatan didn't score and remove his shirt, everything would fail. Luckily for them and in his own words (probably) "Zlatan always delivers."
5 – Old Spice Response Campaign

This is the one piece of work that genuinely ticked all the traditional media channels, whilst relevantly communicating its message in those channels. Few clients have been ambitious enough to commit a team, time, craft and budget to do real-time this well.
6 – Airforce One 'Still free' – Marc Echo

Graffiti the President's jet – our favourite idea of all time. To do something so convincing that the Pentagon denied it four times is bonkers. So next time your client asks for 'a viral', remind them of what it really takes to go viral.
7 – EC Vitoria – Blood Donation

Bill Shankly's quote about football being more important than life and death got a real-time reboot on the oldest shirt in Brazil. Vitoria motivated diehard fans to give blood and save lives as well as gradually restoring their beloved team's colours in front of tens of thousands of fans in the stadium and also via TV.
8 – Rainbow Warrior – Greenpeace

By paying for a piece of decking of the original Rainbow Warrior you can enable Greenpeace to carry on its amazing work.
9 – Kern & Sohn – The Gnome Experiment

Nothing is more real-time than when a set of scales and a gnome land on your desk. Who wouldn't take part in such an original global experiment? The gnome won the hearts of 355 million people in 152 countries.
10 – Gatorade – Replay

As we get older the sofa gets more appealing, but Gatorade had other ideas. Replay settled an old American football score between two bitter college rivals that drew a game 15 years previously. We watched the original athletes retrain and get fit to settle the game once and for all. These Replays are now played out in all Gatorade's global markets.