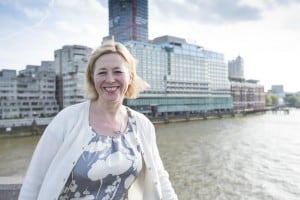 Indomitable might be the word to describe Nina Jasinski (left). The former CMO of Engine Group has surfaced in the same role at Ogilvy UK, the WPP giant about to move from its unlamented Canary Wharf location to Sea Containers House, on sunny Thameside. Jasinski will report to Ogilvy UK CEO Annette King.
Jasinski has also worked on new business at London agencies RKCR, Dare, Elvis and Leo Burnett, in totaL a remarkable tenure in a highly demanding role.
Jasinski says: "I'm hugely excited to join Ogilvy. I've been an admirer of Annette King for many years and with the imminent move to Sea Containers, it heralds a new era for the group. The ten different agencies that make up Ogilvy are unique in the market place as they share the same, strong Ogilvy culture and values."
CEO King says: "Nina has energy and ideas that will strengthen our team as we go forward into this exciting chapter for Ogilvy. She understands the changing nature of clients' needs and her experience coupled with business nous are second to none – we can't wait to welcome her to Ogilvy."
Ogilvy, arguably the star performer in the WPP orbit over recent years despite the high profile of a rejuvenated Grey, has always been a bit of an oddball in London. For ages the emphasis has been firmly on huge international accounts like Ford with domestic business in a poor second place. One former MD told me he had to plead with such Ogilvy account barons to lend people for domestic pitches.
Now, with all ten Ogilvy agencies and a mind-boggling 1700 people ensconced in a more central London location, the agency might finally make its mark on local and regional business. Which will please its creatives, among others, no end.