Publicis Groupe has finally sealed its $3.7bn takeover of technology company Sapient (which also includes the Sapient Nitro agency) after finally persuading the US authorities that French ownership of the company – which works on US defence business – poses no immediate threat to Uncle Sam.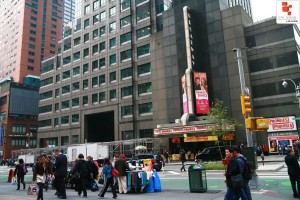 The agency, if indeed that's what it is now, has also extended its lease on 1675 Broadway (left) – which currently houses Starcom MediaVest among others – to 2031 and taken extra space, giving it 500,000 square feet or so over 16 floors of the 35-storey tower. 1675 was recently named best-in-class for internet connectivity in NYC, so maybe Sapient will move in too.
Publicis CEO Maurice Levy, who was thwarted last year in his bid to secure a nil-premium $35bn merger with rival Omnicom, has referred to Sapient as the company's 'crown jewel.'
Some people thought that when, in rapid succession, he bought digital outfits Digitas, Razorfish, Rosetta and LBi. But Sapient is bigger than any of those were – and now are certainly, if you can separate one from the other. It's much more expensive, Publicis paying a 44 per cent premium to its share price last year.
It seems likely that Publicis will form Publicis/Sapient or some such to oversee its array of digital assets. LBi has been merged with Digitas already and all of them come under its VivaKi digital media operation. The deal will mean that Levy finally secures his ambition of more than half the company's revenues coming from digital, a sort of space race he's been involved in for the past few years with great rival Sir Martin Sorrell of WPP.
Levy (left) has gone further than this in the recent past, saying he wants his legacy to be Publicis Groupe as an 'internet' company. He does, of course, also have a few other companies to oversee including agencies Publicis Worldwide, Leo Burnett and Saatchi & Saatchi. He also now owns all of UK-based BBH, which may be wondering where it fits into the new scheme of things.
While companies like Publicis and WPP are forever juggling their digital assets, with expensively acquired brands all but disappearing into new groupings, the agencies tend to stay separate. Presumably because account conflict is a bigger issue in what we might call 'traditional' advertising than it is in digital.
But Levy, who has postponed his retirement date yet again to 2017, has promised shareholders that Publicis margins will recover after a disappointing 2014 which he blamed on the distraction of the proposed merger with Omnicom. Publicis margins have always been higher than the industry average – it makes about as much profit as Omnicom even though Omnicom is nearly twice as big in terms of revenue – so this is a pretty tall order. Margins in digital have not, historically, been as big as in creative or media agencies (the real money makers).
So something's got to give, unless Sapient brings the group a tidal wave of new and profitable business.
Both Publicis and WPP can be seen as would-be digital or, maybe in the case of WPP, 'data' businesses – with some big agencies and hundreds of smaller companies tacked on. Such businesses are often seen by analysts and their financial sector employers as conglomerates in all but name, rambling empires that can be profitably broken up.
Levy and Sorrell, and no doubt Omnicom's John Wren and Interpublic's Michael Roth, argue that they need to be in all these areas to offer the world's biggest clients what they want. This has so far succeeded in keeping the sharks away. But it makes delivering a big profit uplift very difficult. If more money goes into digital, for example, it's going to come from somewhere else. PR agencies (Publicis has MSL, WPP has Hill & Knowlton) have suffered in recent years as social media agencies have eaten their lunch.
So Levy, and indeed his rivals, need to find a way of making their ever-growing ragbag of assets work harder. Sapient, all $3.7bn of it, had better be the 'crown jewel' Levy hopes for.