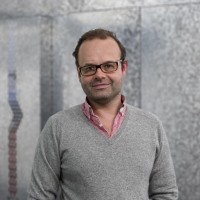 Andy Cutbill is executive creative director of Albion and a former creative director of R/GA in London. Albion describes itself as a 'creative business partner.' It specialises in scaling start-ups including Skype, Betfair, Innocent and Zoopla and helping established companies like Telefonica, Aviva, Hays and CompareTheMarket.com innovate. Earlier this year Albion sold a majority stake to MDC Partners and is now part of its KBS Albion Group.
Desert Island Ads

The ads of my life, without repeating all the commercials that everyone else has spoken about. Tricky.
Public Information Films: 'Charley says'

My childhood was permanently scarred by these 'Charley says' Public Safety Ads. Especially 'Don't talk to strangers'. My sister and I were convinced we were one 'Hello mister' away from being bundled into some bloke's Lancia Trevi and done away with. I swore I'd get my own back on the advertising industry. Forty years later, here I am.
Monster Munch

The Seventies was the era when you watched the telly for the adverts, because 90% of the programmes were crap. These ads borrowed heavily from the Muppet Show, one of the only programmes worth watching at the time. I loved these hairy guys almost as much as I loved shoveling down the crisps.
Hamlet:Photo Booth

'Photo Booth,' starring Baldy Man Gregor Fisher, was just one of a dozen or so Hamlet TV ads from around this time. It's certainly one of the funniest of the series, but pretty much all of them were near-perfect storytelling examples of the 30-second TV ad.
Dunlop: Tested for the Unexpected

The mid Nineties was when I got my first job in advertising. The internet was still in its infancy, and although most of us were poking about we were still in awe of the great TV commercial director Tony Kaye. This was the first Kaye ad I remember (although Volvo 'Twister' was just as extraordinary). I think dropping the grand piano from the bridge was inspired. Properly bonkers, but inspired. A shoot I wish I'd been on.
California Milk Processor Board: Get the Glass
(Trailer here, game in link below)

Jump forward a decade and advertising had changed beyond all recognition. Get the Glass, a dice-rolling web game in which you had to help the milk-deprived Adachi family nick a giant glass of milk without getting thrown into 'Milkatraz', might sound a little cheesy, but it was an extraordinarily inventive game you just kept on wanting to play. It's rare that any advertising can keep you enthralled, let alone engaged for quite so long. And the movie-quality animation was astonishing.
Starburst: Berries and Cream

I would have mentioned Skittles at this point, but the greatness of those ads is well documented. 'Berries and Cream' from Starburst was another commercial that caught people's imagination for it's unashamed weirdness (over 11m views on YouTube to date). You could also learn the dance (here) although quite why you'd want to, I'm not sure.
Cravendale: Cats with Thumbs
https://www.youtube.com/watch?v=h6CcxJQq1x8
Unashamed usage of the internet's fascination with cats – ten out of ten. It was the West Side Story finger-clicking reference that tickled me most, and the extension of the campaign into social media with Bertrum Thumbcat and further milkman-kidnapping executions kept the ball rolling nicely.
Bing: Decode Jay-Z
https://www.youtube.com/watch?v=XNic4wf8AYg
This Droga5 example is one of my favourite campaigns of all time. Pinning the content to its contextual location and playing it out as a scavenger hunt, knowing how hungry Jay-Z's fans would be, was close to genius. Four years later and I still find the scale of what the agency pulled off extraordinary. Did it keep me using Bing maps however? Er, no.
Bodyform responds

A great example of how to turn unfavourable social media reviews around, and not many brands have done it with such panache. Blue water anyone?
Dollar Shave Club

This is proper unashamed greatness, and exactly what we bang on about so much at Albion. Remarkable product (a razors-to-your-door service in this case) with remarkable marketing is everything we stand for, and it's what more and more brands are looking for in a creative business partner. Michael Dubin, founder and CEO of Dollar Shave Club, Albion salutes you.