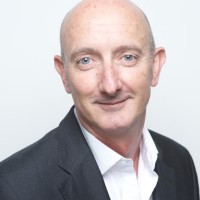 Chris Harris (left) is a partner at global executive search firm Grace Blue, specialising in placing leadership roles in the advertising and media sectors. He began his career at Saatchi & Saatchi before joining BBH in 1990, becoming CEO Asia Pacific in 1998 before returning to London as president – international operations. Before joining Grace Blue he was president and CEO of Cheil UK.
Alkaseltzer: Mamma mia

I remember seeing this commercial when I was a kid and thinking 'I want to do that' – it captures that wonderful dry American humour combined with the directness of their creativity before it all went wrong.
Coke: I'd like to teach the world to sing

Or was it this one that made me want to get into the industry. A wonderful commercial and political zeitgeist and reminder of a time when songs written for ads could become hits in their own right, before we got lazy.
Sainsburys: Supreme pet food

My first ever TV ad so it holds a special place in my heart. But it also shows how creativity and charm could be got into a promotional ad that ran for one week and was briefed on a Monday and ran two weeks later….in 1983!
BA: Manhattan

And yet, while I was making the Sainsbury's ad someone was doing much bigger things in the same building. This is where I learned what we mean by a big idea.
Hovis: Bike

Brands have souls. Nothing captures it better.
Nike: Shade Running

Nike used to have a way of capturing what we love about the sport we play or watch. Every runner will get this one!
Levi's: Swimmer

Can you believe how much discussion and heartache went into Levi's moving away from classic rock/soul…and how right they were to do so.
Audi: Number One

There are so many great Audi ads I cannot decide between this and the one with the Mullers, the Schmidts and the Reinharts – but I can't find that one on YouTube. Just brilliantly observed and capturing the moment in time, with perhaps the best characterisation ever. Perhaps inevitably, the German brand owners didn't get it!
Heineken: The Blues

A classic from a classic campaign, and I've cheated with the link so you get the sequel too.
Boddingtons: Face Cream

BBH excelled at zagging when the world zigged and this is one of the best combinations of both strategic and creative zags.