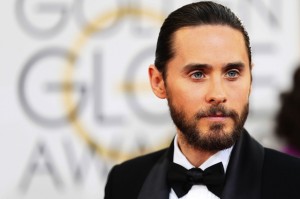 Cannes 2014: Jared Leto (left) is a born performer. His CV wouldn't be one that needs much embellishing. He's an Oscar winning actor (star of Dallas Buyers Club and Requiem for a Dream), a musician (the frontman of Thirty Seconds to Mars, currently one of the biggest rock bands on the planet), a director, a producer, a businessman, a tech entrepreneur and a philanthropist.
And to think we all reckon we're leading busy lives.
I've already spent a few Cannes articles moaning about some sessions at the festival featuring a celebrity for celebrity's sake. But with such an eclectic CV, Leto seemed a good choice to appear. Here is a man at the top of his game, brimming with creative talent.
From the second he walked on stage you could tell quite easily that Leto was a rock star. He had the audience eating out the palm of his hands. Interacting with them, poking fun, saying all the right things. He was born to put on a show.
And whilst there are certain creative and tech personalities who have more impactful and industry-defining things to say, it is always nice when there's someone on hand to gee up a hungover crowd and treat the festival a bit more like, well, a festival.
"This is your Coachella," Leto exclaimed, before proceeding to invite a (literally) squealing fan up on stage to take a selfie, and turning the whole session over to the crowd to ask questions.
An audience Q&A is always a dangerous move. And yes, there were a number of awkward, off-topic and just downright stupid questions that made for some cringeworthy moments.
But that's where Leto's showmanship came into its own, and he managed to steer the session round quickly to provide an interesting glimpse on just what it takes to juggle so many large creative projects in one go.
"Being multi-disciplined is just indicative of the world we live in," Leto explained. "I'm not unique – lots of people do a lot of different things. How I've succeeded in doing it is to commit to the things that I'm doing and being persistent. Even when things get difficult you have to keep going. You fail and fail and fail but you also learn from it.
"You have to be good at managing your time – it took me a while to learn how to do that. But don't wait. Don't waste time waiting for permission. To be a creative person you have to be compelled beyond creative doubt to do things. You have to be passionate about everything."
An abundance of clichés? Maybe. But when Leto says it it's stirring stuff. And made for a remarkably entertaining hour. "Hey, I want you to get your money's worth," he said.
And to finish off, Leto revealed his life's motto. A line that will no doubt appear in every Cannes article and review produced over the next few weeks. A line that CEOs across the industry will be reminding their creative departments once Cannes week is over and the hangover subsides. A line that has an element of cheese, but that is undeniably true. "Just remember, the bridge between dream and reality is work."