Cannes 2014: There are some that would argue the Cannes festival is nothing more than a money making exercise, while others see it as a showcase of inspirational ideas to lift the industry to new heights.
For those who fall into the latter camp, it will be surprising to note what two of the biggest hitting creatives in the world see as having the potential to elevate creativity – the humble ad blocker.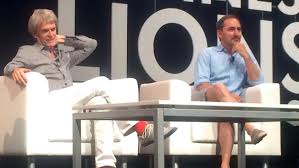 The powerhouse double act of Sir John Hegarty and David Droga took the stage at Cannes on Friday to give their views on creativity, the state of the industry and Hegarty's favourite subject – big data.
At a press conference afterwards, the pair showed a surprising about of enthusiasm for ad filtering on the web. 'I'd like more people to have ad blockers", Hegarty said. "What they are doing is cutting out the crap."
Hegarty went on to say that there is an assumption that in the bygone TV age, people used to sit square-eyed in front of the television consuming ads. Hegarty argued that back then our brains blocked advertising, adding "we didn't need technology to do it".
"If you do something interesting, people will want to watch it, " Hegarty said. That's what creativity helps you to do."
Droga was in agreement: "Blockers are the slap in the face this industry needs to have," he declared.
In Droga's view, technology that removes ads from eyeballs puts the onus on creative people to step up take control of the industry from the moneymen. "Ad blockers make us better, " Droga said. "Bring it on. " And that is how the ad blocker become hailed as one of the saviours of creativity at Cannes this year.