Omnicom, still licking its wounds (or maybe breathing a sigh of relief) after the failure of its merger with Publicis Groupe, has produce a timely acquisition all of its own – Germany's agency of the year Heimat, which employs over 230 people in Berlin and Hamburg.
Omnicom network TBWA Worldwide will take a majority share in Heimat which was founded in 1999 by Matthias von Bechtolsheim, Guido Heffels and Andreas Mengele. Heimat CEO and co-founder von Bechtolsheim will be chairman of the new TBWA Operating Group Germany.
Heimat will keep its original name although you would expect TBWA to be added to it, echoing the successful Adam&Eve/DDB and, back in the day, Abbott Mead Vickers/BBDO deals in the UK.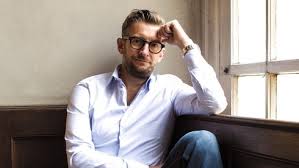 Von Bechtolsheim (left) says: "We have had conversations with many international groups, but the partnership with Omnicom and TBWA is based on a mutual respect for entrepreneurship and creativity between ourselves and the managers we collaborated with on this deal.
"Our commitment and passion for our clients and their brands has led to many fruitful relationships with our national and international clients over the last 15 years. We will continue to work with that same dedication, together."