This looks like fun – and may even be that big step forward in (branded) content we've been waiting for.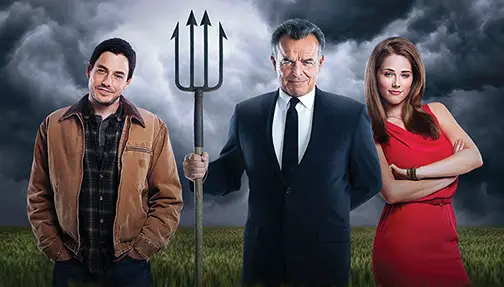 Chipotle Mexican Grill, which has already had a big impact on adland with its Cannes Grand Prix winner 'Back to the Start' supporting ethical farming in 2012, is launching new satirical comedy series, Farmed and Dangerous, on Hulu and Hulu Plus on February 17. The series has been made with New York-based studio Piro and stars A-list US TV actors Ray Wise, John Sloan and Karynn Moore. The director is Timothy Piper.
Farmed and Dangerous satirizes the lengths to which corporate agribusiness and its image-makers go to create a positive image of industrial agriculture. The first season focuses on the introduction of PetroPellet, a new petroleum-based animal feed created by fictional industrial giant Animoil. PetroPellet promises to reduce industrial agriculture's dependence on oil by eliminating the need to grow, irrigate, fertilize and transport the vast amount of feed needed to raise livestock on factory farms.
But before its new feed formula can reshape industrial agriculture, Animoil's plans go awry when a revealing security video goes viral sending Animoil and its spin master, Buck Marshall (played by Twin Peaks actor Wise) of the Industrial Food Image Bureau (IFIB), into extreme damage control mode.

Chipotle chief marketing and development officer Mark Crumpacker (also executive producer on the series) says: "We think of Farmed and Dangerous as values-integration rather than typical product-integration. The show addresses issues that we think are important – albeit in a satirical way – without being explicitly about Chipotle. This approach allows us to produce content that communicates our values and entertains people at the same time."
Quite so. Looks good to me. Would an ad agency have the balls to make something quite so hard-hitting?