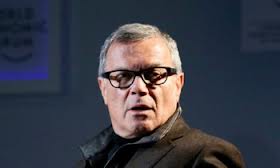 Is WPP planning to buy Interpublic? Oh yes it is, say numerous analysts and hacks; oh no we're not, says WPP, in a series of seemingly firm denials that leave plenty of wriggle room for Sir Martin Sorrell (left) and chums to change their mind.
So is this, indeed, more than a Christmas pantomime?
Interpublic (IPG) is currently valued at $7.4bn on a decidedly toppy price/earnings ratio of 26 while the rather larger WPP is valued at just over $18bn on a P/E of 20. IPG's 'look no hands' share price is likely to rise to even dizzier heights the longer the bid speculation goes on.
So WPP's Sorrell surely needs to move soon if he really does want to buy IPG – and reclaim the number one marcoms group crown from the about-to-be merged Omnicom and Publicis.
And who are these chums? Sorrell,after all, generally ploughs a lone furrow. Well they're WPP shareholders and the banks who might help to finance such a deal.
WPP, although it is trading strongly, still has about £3bn of debt and a cash bid would clearly burden the company with much more. A share deal – or a mix of shares and cash – looks more likely. The Omnicom/Publicis merger is an all-share deal. But that would dilute WPP's shares at a time when holders are pleased to see some rapid upward movement after a period in the doldrums.
So it's a tricky one for Sorrell. Buying IPG would give him the McCann network (good) and some strongly-performing PR companies, an area where WPP is currently struggling. But it wouldn't give him much in the way of media (IPG's UM and Initiative are way behind WPP's GroupM collection) or digital. Not for that kind of money anyway.
And there are some obvious conflicts, most notably McCann's GM business with WPP's Ford.
Finally it would mean that Sorrell's declining years at WPP (he's 68) would be spent on heavy post-merger engineering – something that would daunt most people of his age or, indeed, most people.
But that's not the way the ever-restless knight thinks and the temptation to crown his career by climbing back to number one may prove irresistible. IPG shareholders, who have seen the share price rise to unrealistic heights given its trading performance, would bite his hand off for some cash.
So we may yet have a funny old/new world with two global behemoths controlling the bigger part of adland (and medialand) come 2014.