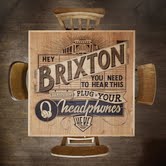 If you venture to London's Shoreditch these days you can't help but feel (mildly) hip and so it's one of the venues chosen by Philips and Ogilvy London (still marooned in the resolutely unfashionable financial district of Canary Wharf) to launch 'Tables You Need To Hear.'
The other London locations include Brixton and Hackney and the campaign has also been launched in Germany.
The tables in question are rather nice bits of furniture which let you hear music, once you've borrowed a set of Philips headsets from the pub. Apparently each pub has music especially 'curated' to suit the denizens of that locality. You kind of know what you'd get in Shoreditch. What about when they hit Mayfair? Lionel Ritchie? Mumford & Sons?

Anyway it's a neat idea. There's just no holding back the creativos at Ogilvy these days.