Here's a teaser for Guinness's new ad, 'Paint The Town Black,' for St Patrick's Day (Sunday March 17).
Well it looks like fun, not to say mayhem.

I always love the bit on the end: 'Drink Responsibly' or whatever.
I've yet to see a booze campaign that manages to dramatise this.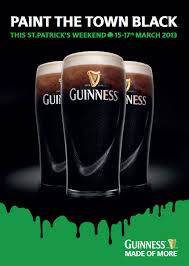 It's also interesting that this is from Saatchi & Saatchi, not AMV/BBDO, begetter of famous ads like Jonathan Glazer's 'Surfer.'
Saatchi is becoming quite good at butting in to other agencies' long-term relationships; as it has with HSBC and WPP
Surely the world's CMOs aren't falling (finally) for Saatchi boss Kevin Roberts' 'Lovemarks?'