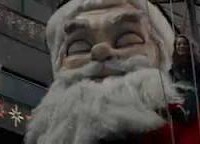 The way Coca-Cola colonises Christmas is quite remarkable: it's a fizzy drink, best drunk very cold and synonymous with summer. Should have fuck all to do with Christmas.
So being the agency charged with the great responsibility of invading Christmas must be a bit daunting.
This Christmas campaign was unleashed a few days ago with no agency in sight.

But apparently it was McCann Madrid.
McCann is in the doldrums at the moment and Coke has lots of good agencies at its disposal, like Wieden+Kennedy. Madrid and Spain aren't doing too well either.
So McCann Madrid wasn't an obvious choice. But I think they've produced an agreeably modest ad for modest times.
So well done Coke and McCann.