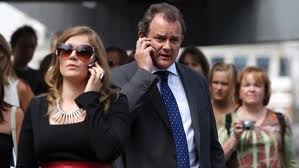 I'd been out of the UK for 10 days, during which I had deliberately denied myself access to TV or newspapers. It was my tiny but heroic revolt against the usual 24/7 news bombardment.
The minute I got back and turned on the telly, there it was: wall-to-wall Olympics-themed advertising. It had gone from nowhere before I went away to total saturation.
What strikes me is how all the ads begin to merge with each other. That's because there's nothing to differentiate the subject matter when it's all from one source. I genuinely cannot recall any specific brand, so homogeneous is their content. I know, I know – a terrible admission from a career adman. Also, some of the ads I have seen make only the most tenuous link to the Olympics.
I'm still waiting for the corker that stands out from the crowd; the one, as they say round at BBH, that zigs while the world zags. They can do it for content, so why can't they do it for commerce? Look, for instance, at the BBC2 series Twenty Twelve. It has been a fantastic antidote to the overall coverage: inspired, funny, very credible about the inevitable chaos that lies just below the surface, but stops short of trashing the event. I'd be very surprised if Twenty Twelve doesn't collect a raft of awards for writing, production, casting and direction. It certainly deserves to. That PR girl, Ms Sharpe from Perfect Curve, is simply magnificent. (One of my family has played a role in the series and says John Morton, the writer and director, is a real stickler for detail and will rehearse and rehearse until he believes the cast has got the line he wants absolutely pat.)
In our risk-averse world I would love to see a brand with the courage to do something similar to Twenty Twelve. Fat chance, it seems. Any idea tabled by an adventurous creative team would probably be swept under the carpet by the client's dreary neurosis about being caught taking the Micky out of a solemn global event.
And yet there are brands out there that could risk a little levity, and bring a smile to millions of faces, without causing offence. How about the cute labrador puppies working overtime to service all those extra bottoms out there? Or Durex? They must be looking forward to a spike (as it were) in sales. There's surely a cheeky line in there somewhere: like 'Game on with Durex'.
With all of this Olympic overload ahead of us, I look forward to at least one or two brave brands making their mark in advertising history. Don't disappoint me. Do a Twenty Twelve for advertising.