Carlsberg is pouring so much dosh into sponsoring Euro 2012 that it blamed it, in part, for some disappointing numbers it released recently. So it's big tournament ad from UK agency Fold7 had better perform.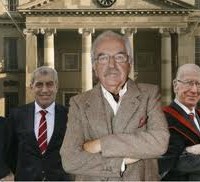 The notion of a 'fan academy' is quite clever (although England fans are supposedly giving the championships a miss, put off by high prices and bloodcurdling threats from some of the Ukraine's more extreme fans). As is disinterring popular presenter Des Lynam, who used to front these things, most notably for the BBC in the marvellous Italia 90 World Cup. And there's Bobby Charlton and Stuart Pearce and former sprinter Linford Christie (is he teaching the fans how to leg it when they see the Ukrainians coming?).
As we've said before, in these big sport-related productions, the most important things is not to drop the ball. And Fold7 doesn't.
Creative by David Govier and Simon Johnson, direction by Peter Cattaneo for Academy'
Mind you, it's not quite as good as this effort from Saatchi and director Chris Palmer for the 2006 World Cup (long version admittedly) featuring the late Sir Bobby Robson and his 'Old Lions.'