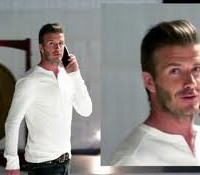 David Beckham is so ubiquitous these days that it's easy to forget he's a footballer. So it's clever of Samsung and Cheil to remind us of same by using him in this online film for the Galaxy Note tablet.
The original idea was to get him to aim at Olympic rings apparently (this year being..) but they decided a drum machine, later morphed into Beethoven's Ode to Joy, was a better idea. It was directed by Jason Zada (it's not him in the film though).

Samsung's marketing of the Galaxy Note was been remarkably sure-footed (no pun intended). Becks has pulled this sort of stunt before of course, for Pepsi.

Pity he didn't aim one of his golden balls at the noisy director though.