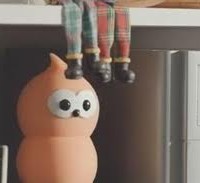 Just about everybody in the UK hates the big energy companies, especially foreign-owned ones like France's EDF who are suspected, rightly or wrongly, of ripping off UK customers while others get the sweetheart deals.
The solution? Send for AMV/BBDO and some winsome animation, a rousing tune from the 1980s and a rather mystifying 'blue+' price deal (makes it sounds like Debenhams). There's new brand mascot too; based on a robot called Keepon.

Robin Wight of WCRS fame used to demand: "Interrogate the product!" In this case it's been fluffed up a bit, blow-dried and sent out to play.