French out of home giant JC Decaux is leading the bidding for the UK's Ocean Outdoor and is expected to wrap up a £50m deal next week.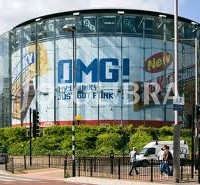 Ocean Outdoor was founded by Damian Cox in 2005 and has the UK's best stock of 'spectacular' poster sites, both digital and paper, including the UK's biggest, the IMAX 3-D cinema (pictured) in London's Waterloo. Founder Cox left the company in 2010 but is still a shareholder.
The auction for Ocean is being handled by Rothschild and Decaux still faces opposition from one other bidder. Decaux is one of the two biggest outdoor companies in the world alongside Clear Channel but its business is founded on 'street furniture,' six-sheet posters on bus stops and the like.
In the UK its growth as been held back because of Clear Channel's large holding of less fancy six-sheet sites and it is keen to boost its share of the booming digital poster sector. Even a single digital poster in a prime big city site can turn over millions of pounds a year.
Ocean has a number of such sites apart from IMAX in both London and Manchester. The company currently turns over about £50m but this is expected to rise by 20 per cent or so this year thanks to the summer London Olympics. Hence Decaux's eagerness to tie up a deal in the next week.