Manchester is Britain's second advertising city but, in truth, not as much as it used to be. As the biggest city in the north west of the country it was once at the heart of an industrial powerhouse and enjoyed the ad accounts to go with it, in particular thriving retail and direct marketing sectors.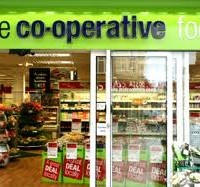 But ad accounts have slipped down the country to London and the south east, just like people and quite a lot of the money have. Now the Co-op, a mutually-owned collection of what were once mainly northern-based self-help societies, is reviewing its £50m account, the biggest in the city. The business is currently with Omnicom-owned TBWA Manchester.
TBWA Manchester was once Bowden Dyble & Hayes, one of the two biggest locally-grown agencies in the city (the other was Royds Manchester). BDH, which was sold to Omnicom in 2008, was founded by former wartime RAF pilot Ken Bowden with his partners in 1964.
The Co-op, itself based in Manchester, is a pretty sizeable organisation these days with interests in supermarkets (it bought the Somerfield chain), banking (it merged with Britannia Building Society in 2009), insurance and even more basic parts of life like undertaking. It's about to get much bigger as it has agreed to buy the 632 bank branches being sold under EU orders by Lloyds Banking Group. So it's a prime piece of business and its departure to London would be a huge blow for the ad business up north. A number of smaller northern agencies of various kinds also work for it.
TBWA Manchester, has made a pretty good job of keeping it up with its many privately-owned rivals (mutuals are suddenly trendy in the UK for probably the first time in a century, thanks largely to the success of John Lewis). Although its food ads insist on using a voiceover artist who, in his Caledonian way, is unable to say 'good with food,' preferring 'guid with fudd.'

It's not clear yet whether the Co-op will invite non-Manchester agencies to pitch (but it can hardly do otherwise) or whether the business will include all its various bits. If the Lloyds branches deal goes through in 2013 it will join Barclays, Lloyds, HSBC, RBS and Santander in the UK's banking premier league so might well want a separate agency for this. So maybe it will go south for banking and keep food up in the north.
Meanwhile it's also emerged that Muller is lining up agencies to pitch for its £25m UK account following its spectacular bust-up with TBWA London. so TBWA in the UK is struggling a bit.