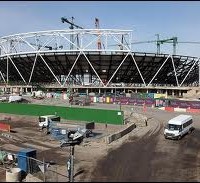 London's Olympics Park Legacy Committee, charged with ensuring that the various venues for the London Olympics next year don't end up as landfill sites, is looking for a name sponsor for the three main Olympic arenas in Stratford, East London.
Not for the Games themselves though, for life thereafter. The provisional ticket is £10m a year.
Flogging naming rights to your stadium is all the rage at the moment of course. Unloved Newcastle United owner Mike Ashley has renamed its famous St James' Park the SportsDirect Arena after his cheap and cheerful (and highly successful) sportswear shop chain. Presumably he hopes this will attract a 'real' sponsor paying real money.
Moneybags football club Manchester City has sold the naming rights for its stadium to Etihad Airways for a mind-boggling £300m over ten years. As both the club and the airline are owned by Adu Dhabi interests this looks like a wheeze to 'raise' money it has already.
So, on the face of it, it looks sensible for the Olympics bods to try to raise some money too. But the main Olympics stadium is scheduled to be the new home of West Ham United, currently languishing in the Championship (the league below the Premiership). And surely West Ham's beady-eyed owners David Gold and David Sullivan (and their sidekick, woman-about-football Karren Brady) would sooner have the £6m or so a year this piece of real estate is supposed to raise for themselves?
There are lots of rumours that the cost of the 2012 London Olympics is set to burst its budget anytime soon. So far the building works have come in on time and on budget but there are fears that the cost of 'security' (lots of bossy people making life tough for Londoners) has been severely underestimated.
So any money that can be raised, even if it doesn't go into the Olympics budget proper, will be welcome. But this wheeze won't be welcomed in the West Ham boardroom. Expect threats to pull out of the deal to hit the media any day soon.