Well here it is, BETC Paris' 'Bear' ad for French broadcaster Canal+. This has got the creative community all-a-Twitter, but is it any good?

Strict types in Cincinnati (Procter & Gamble HQ) and other unforgiving places where they nurture their ad budgets (billions admittedly) might argue that any ad that seeks to make a point out of the artifice – making an ad – is an indulgence by creatives for creatives.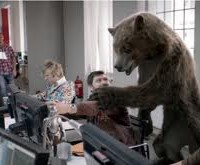 But it's done with some pizazz and the buzz won't hurt Havas-owned BETC as it tries to make it as a French-based international network. Exiting JWT London CEO Guy Hayward is supposed to be joining the nascent network.
Havas CEO David Jones won't be complaining.