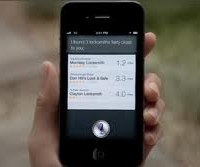 When the iPhone 4S was launched the tecchie wiseacres said it was nothing much and it just showed how the company would miss the late Steve Jobs (who was alive when this one was developed, maybe his cleverest idea yet).
But Apple, as usual, has anticipated what people want. There have been voice-activated computers for decades (IBM had one in the late 1980s) but they've never taken off, or worked that well. Apple's mouse is probably one reason why people didn't need them.
But the voice-activated iPhone 4S' Siri, a kind of virtual PA, seems to be able to make this happen in a way people want and so technology has set off in another Apple-inspired direction.
The reason the tecchies don't like it is that they want computers and line extensions like phones to be complicated. Wrong again nerds.
And, as usual, l there's a nice simple ad from TBWA Media Arts Lab to launch it (although it does sound a bit self-satisfied, as usual). And it's clever not to give Siri a human face or form.

Job done really.