Even the dimmest policeman knows that the best chance of solving a crime is if someone confesses, implicating their partners in crime if there are any.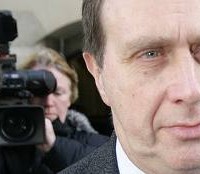 Now a letter from jailed News of the World royal correspondent Clive Goodman has emerged in which he alleges senior News of the World figures knew all about phone hacking, indeed discussed it in the formal weekly editorial conference until they were told not to.
It also appears that Goodman himself was paid to shut up.
Part of the deal was that he would get his job back when he came out of prison (after four months) and he didn't.
Goodman has now been re-arrested along with several other past and present NoW hacks (the paper was closed by News Corporation a month ago) so he won't be inclined to enlarge on his accusations, yet.
But the latest allegations are very bad news indeed for both those arrested and senior figures at News international who so far haven't been.
One such is News International chairman and News Corporation deputy COO James Murdoch who is now certain to be recalled to face the Commons culture, media and sport committee when it reconvenes in the autumn.
James' evidence to the committee which he gave alongside his father Rupert has now been challenged by former NoW editor Colin Myler and legal manager Tom Krone.
It has also emerged that James agreed to pay £242,000 to Goodman, a payment which could be viewed as criminal if James knew the full facts at the time.
If one more senior NoW figure were to 'fess up, we would be in the endgame of this long-running saga.