Steve Jobs' decision to step down as CEO of Apple aged 56 is hardly a surprise but it's still a shock.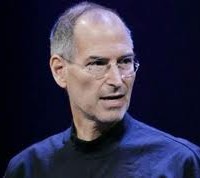 Jobs, who founded the company before being kicked out and coming back to rescue it with the launch if the iPod, iPhone and iPad, has been bedevilled by ill-health for a decade now, being diagnosed with cancer in 2003, undergoing a liver transplant in 2009 and being off work since January this year. COO Tim Cook takes over.
Apple of course recently took over from Exxon Mobil as the world's biggest company by market capitalisation.
Was he a great marketer? Well from this afternoon's standpoint he looks a great everything although no doubt his achievements will be critically dissected over the next weeks and months.
But if you define marketing as making people want stuff you can sell them at a healthy profit Apple and Jobs seem to fit the bill.
And, unlike many imperious entrepreneurs, he's been very loyal to agency TBWA/Chiat Day who made this:

And this:

And this is Jobs himself, speaking to Stanford University graduates: