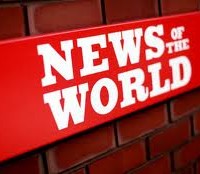 The News of the World and its ultimate owner Rupert Murdoch's News Corporation have finally admitted that phone hacking at the paper went much further than the activities of royal correspondent Clive Goodman and his private eye sidekick Glenn Mulcaire who were both jailed for the offence in 2007.
It says it 'genuinely regrets' what some so far unnamed NoW types were up to, didn't conduct its own investigation into the affair as rigorously as it should have and is to set up a 'compensation fund' estimated at £20m which it hopes will placate the numerous celebrities and others who are suing the paper.
The white flag is fluttering over Wapping in the wake of the arrests of chief reporter Neville Thurlbeck and former news editor Ian Edmondson on Tuesday.
News Corporation CEO Murdoch, who has taken charge of the company's response to the current police investigation, is clearly desperate to shut down the issue without it jeopardising News' bid for the 61 per cent of BSkyB it doesn't own. This still hasn't been formally approved by culture secretary Jeremy Hunt.
He's equally desperate to keep his own executives out of the dock although it now looks as though some of the hacks will be left hanging out to dry, albeit with their lawyers' bills paid by the company.
News' admission of (some) guilt was broken today by the BBC's Robert Peston who News is clearly using as its chosen conduit to evade the newshounds at the Guardian who have made its life such as misery over this for the past couple of years.
This is thought to be on the advice of News International general manager Will Lewis (pictured), former editor in chief of the Daily and Sunday Telegraphs and a chum of Pesto's dating back to their days at the Financial Times.
The ever-ambitious Lewis could be destined for much higher things at News International when all this is over.