Clients the world over would probably be very pleased if nobody stepped forward as suitor in chief for independent media planning and buying group Aegis, Aegis is a way for them to put pressure on the huge media buying groups owned by WPP, Omnicom, Publicis Groupe and Interpublic.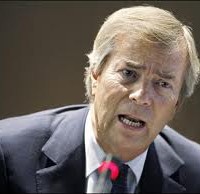 But French industrial magnate Vincent Bollore, whose Groupe Bollore owned 26.5 per cent of Aegis and 32.9 per cent of Havas (which he chairs) has signalled he no longer plans to buy Aegis (which has consistently rebuffed his overtures) and merge it with Havas.
Not least because he can't afford it any more as Aegis is roughly the same size as Havas these days.
Bollore recently stepped down as CEO of Havas in favour of David Jones from Euro RSCG, the company's biggest agency. Jones is far more likely to try to boost Havas' ad agency presence (traditional and digital) than he is to enter to enter a pointless bidding war for a big media operation.
Or, as we've said here before, Jones could find himself on the receiving end of a bid from one of WPP, Omnicom or Publicis Groupe; most likely Maurice Levy's PG which would become a real contender for top spot in the global marcoms stakes with a (combined) French national champion.
This is just the kind of deal that would appeal to French president Nicolas Sarkozy (whose brother Francois now works for Levy).
And, presumably, would bring Gallic honours (and piles of euros) raining down on Bollore.
But it's also worth bearing in mind that Carat, the media network that comprises most of Aegis' business, was once a French operation. Carat's founders, French media entrepreneurs the brothers Gross, sold out to newly-quoted UK creative agency Wight Collins Rutherford Scott back in the 1980s to form Aegis.
Publicis Groupe, Havas and Aegis; that really would give WPP's Sir Martin Sorrell and Omnicom's John Wren something to think about.