Well it's an interesting one isn't it? James Murdoch, currently chairman and CEO of News Corporation in Asia and Europe, is going off to New York to be deputy COO of the whole shebang and boss of international (including Asia and Europe).
So it's a promotion then?
But it's an extremely odd time to make such a move as News Corp is currently trying to persuade the UK government and then the directors and shareholders of BSkyB that it's the right company to own all of the vastly profitable pay-TV business as opposed to owning its current 39 per cent.
So who, in the absence of James, is in charge of the clattering train?
Well it can't be Rebekah Brooks, boss of newspaper subsidiary News International in the UK, as she can feel the hot breath of Scotland Yard's investigators on her elegant neck as they (finally) investigate the New of the World phone hacking scandal properly.
And there isn't anyone else. Apart from 80-year old News corporation CEO and biggest shareholder Rupert Murdoch himself.
Rupert recognises that buying all of BSkyB will be a transformational deal for News Corporation, making it one of the biggest and most profitable TV companies in the world (maybe the biggest and most profitable if he can buy the rest of BSkyB for less than £10bn).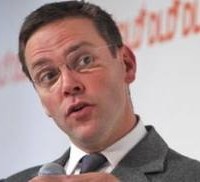 He clearly doesn't entirely trust James, who's been a bit of a loose cannon recently, attacking the BBC and bearding Independent editor Simon Kelner in his own newsroom over a not-very-important perceived slight on the Murdochs, to handle such important proceedings.
So who'll be helping Rupert in his hour of need?
Could it be daughter Elizabeth who's now back in the News Corporation fold, assuming the deal to buy her production company Shine for £415m goes through? Some shareholders think this price looks a bit toppy (that's being polite).
And Liz will no doubt pay occasional heed to the advice of her husband, PR maven Matthew Freud, who, it's thought, has larger ambitions than just running a big PR firm.
So, anyway, it's onwards and upwards for James. But he won't be feeling very relaxed about it.