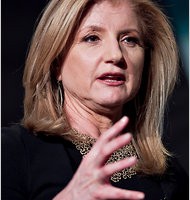 One-time market-leading ISP AOL has been trying to reinvent itself as an online content provider since it split from Time Warner in 2009 and now CEO Tim Armstrong has bet the ranch on Arianna Huffington and her Huffington Post, the left-leaning political super blog.
AOL is paying $315m for the Huff Post ($300m in cash) and Huffington will be president and editor in chief of all AOL's hotch potch lof content businesses which include Map Quest, Moviefone, local news service Patch and 'citizen journalism' site Seed.
The Huff Post has 25 million monthly users and its addition will bring AOL's online audience to about 100m.
Armstrong and Huffington met recently at a media conference and obviously hit it off. Huffington says that that two were "finishing each other's sentences." Given the length of some of the always voluble Huffington's sentences this could be a good thing for the world at large.
More than ever this deal pits Huffington against the Daily Beast's Tina Brown as the two warring queens of internet journalism. The rather smaller (but younger) Beast recently merged with Newsweek to create an online-offline news-based media company.