The ever-magnificent Mad Men is becoming the template for ad agencies, despite being set nearly 50 years ago.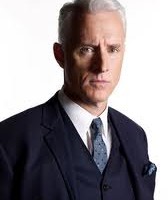 Ad Age had the very bright idea of signing up Piers Morgan, about to take over Larry King's CNN slot, to interview actor John Slattery, who plays politically incorrect Sterling Cooper Draper Pryce boss Roger Sterling, about his views of the show and contemporary advertising.
Here some of what Slattery/Sterling said plus an interesting comment from an Ad Age reader:
NEW YORK (AdAge.com) — Piers Morgan, a judge on "America's Got Talent" and upcoming successor to the "Larry King Live" time slot on CNN, was hoping to tackle sexism in the ad industry during his Q&A panel at Advertising Age's Media Evolved Conference in New York. Luckily, his interview subject was John Slattery, aka Roger Sterling from "Mad Men," "arguably the most sexist character on television."
Much like Roger Sterling's own dialogue, Mr. Morgan's chat with Mr. Slattery was filled with memorable anecdotes on everything from advertising to acting in movies vs. on TV. Ad Age compiled some of the best soundbites from the half-hour chat.
Mr. Slattery, on advertising: "You'd think I'd know a hell of a lot about advertising but I don't know shit about advertising. To see these seminal campaigns in the way they were created, the research they put into some of those things is fascinating. David Ogilvy said you can have great creative, but if it doesn't sell product it doesn't mean shit. … And I think good creative is as important as ever. It's more important because of the glut of advertising everywhere you turn. Whether you're at the gas pump or on the elevator, everyone is trying to sell you something. It's more difficult to get through all of that without good creative."
Mr. Slattery, on playing Roger Sterling: "It's certainly the best job I've ever had. The writing is phenomenal and it doesn't stop. … I don't know whether he's depicted or not, but this character says what he wants to say and he has a gift of a very concise and pointed sense of humor and the courage to say what he thinks of in the moment regardless of how it would play."
Mr. Slattery, on being a three-time Emmy loser: "We all keep losing, and [Jon] Hamm is there and Christina Hendricks and they put you on the aisle as though you might win. You have to make sure you keep clapping, and the guy's there on the floor with the camera right on your face. It's like, 'Can I stop now?'"
Mr. Morgan: "What would you say if you won?"
Mr. Slattery: "I had one good line a friend of mine wrote, but I'm not going to tell you or I'm never going to win. The first time I lost I was glad because the thought of having to get up and say something is terrifying. And Hamm turns around and goes, "You loser. They don't even look at you, you feel they're going to jinx you. At least I lose to different people; you keep losing to the same guy."
Mr. Morgan, on joining Twitter just hours before the conference panel: "I figured I'd join because everyone on my production team is on it. I surpassed more followers than all of them combined in 32 minutes. I just joined a few hours ago and I think I was at 12,000 by the time I took the stage. You feel smug and oddly competitive when you do things like that."
Mr. Slattery, on having Roger Sterling as a friend in real life: "Most of my friends that were like that when I was younger are in rehab. Now they're all sobered up and no fun at all anymore. I think I'd be like the people in the show. They sort of keep him at arm's length and roll their eyes at him. [Don] Draper is obviously no prince either. I like the character because he has the courage of his convictions, he actually does have convictions, loyalties and his own code of ethics. And he's not afraid to say what he thinks when he's run out of perspective, loyalty or heart or women beyond sleeping with them. That's what makes the show complicated."
Mr. Slattery, on his burgeoning movie career ("Iron Man 2," "The Adjustment Bureau"): It is bottom-line driven for me because I'm not a movie star. No one's going to get off the couch to go see me in a movie. The real reason is you can do two or three scenes in a movie or be the star of a television show. You can get great writing on a TV show and OK writing on a feature. A lot of great writers went to television because that's when the money dried up in features. The golden age of television is happening. That's where people are allowed to be creative."
Mr. Slattery, on the future of "Mad Men": "[Show creator Matthew Weiner's] idea was to do the '60s in five seasons, and we're up to 1967. We're in negotiations to do the next couple years. My bet would be next two years. We could get to '70 in the last season, which would be great. I could wear platform shoes. … Did they have platform shoes in 1970? That might have been a little early."
Mr. Slattery, on what "Mad Men" says about American culture: "I think it's nostalgia. In those days you could drink, smoke and fuck around and you wouldn't get caught. Or you could look at it as a brilliantly written show, well cast along the lines of 'The Sopranos' or something that isn't necessarily a moral example of how to behave just good creative dramatic theatrical fare on television."
By craigcooper | craigcooper.com, NY December 1, 2010 11:17:08 am:
The purpose of creative is not to sell per se.
The purpose of creative is to cut through the noise and deliver the message in a way that is relevant and memorable.
It is the message that sells – but the message is meaningless if nobody gets it.
Two quibbles about Mad Men, based on the episode I saw in the UK on BBC4 last night.
Has it become too Don Draper-centric? I know this episode was about him, his family and his wife-to-be. But when he's in the agency the rest of the management seem to do little more than hang around in a group waiting to be summoned into his huge office (in a struggling start-up) for the next pronouncement from Draper. We need more of him with Sterling because they're such a brilliant duo.
As Slattery says here, Draper's 'no prince.' But we think, or would like to think, he's a good guy underneath it. As for Sterling we're really not sure, which makes him such a great character.
And why, in 1967, does Don wear his hat wherever he goes? Even while attending a Californian swimming pool with his kids? Maybe this is one of writer Matthew Weiner's little jokes that I'm missing.
But, as Slattery says above, at some point the series will close on 1970 and the kit the actors wear will have to change.
Will Draper, Sterling and co be quite so convincing and imposing in loon pants and tie-dyed T-shirts?